About Us
Venture Corporation is the largest developer of commercial condominium projects in the Western States.
Contact Us
About Venture Corporation
Venture Corporation was formed by Robert Eves in 1976. Rob has vast experience in project acquisition, government entitlements, site planning, architecture, civil and structural engineering, construction management, marketing, sales and leasing. He and his staff have structured financing for hundreds of millions of dollars of development projects using institutional and private, domestic and foreign capital and debt sources. Venture Corporation has participated in more than a hundred real estate development projects of various sizes and types and has completed a string of projects ranging from residential developments to raw land developments, office buildings to industrial R&D facilities, business parks to commercial condominiums. Under Rob's direction, Venture Corporation built the largest business park in Silicon Valley and more commercial condominiums than any other company in America. Rob generally focuses on the creative side of the Company's operations, including new project concepts, architecture, marketing campaigns, organization and administration. Originally from Omaha, Nebraska, Rob started his first company at age 18, worked his way through college and moved to Marin County, California in 1975.
Venture Corporation's early projects included residential land developments, new home subdivisions, housing construction – attached and detached—and condominium new construction and conversions. Some of the early projects involved institutional partners.
In 1993, the Company acquired 317 acres of land at the south end of Silicon Valley near San Jose. Venture Corporation built 2.5 miles of roads and underground utility systems, sold unimproved building lots and constructed custom buildings for companies. Over the course of the following seven years, the project, dubbed MORGAN HILL RANCH, became the largest business park in Silicon Valley with 3 million square feet of office / R&D buildings and over 3,000 employees.
Venture Commerce Centers
Commercial Condominium Pioneers
Few opportunities have existed for smaller companies to own their commercial buildings because developers have focused on constructing buildings to accommodate larger companies. Recognizing an opportunity, in 2002, Venture Corporation developed a design for a two-story office / R&D building divided into separate business properties to be individually offered for sale to firms typically with 20 or fewer employees. The project was built and the first VENTURE COMMERCE CENTER was born.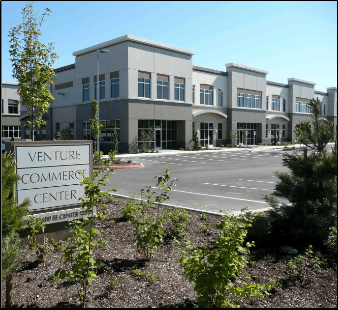 That first development was an immediate success. Former tenants were delighted to have an opportunity to become owners and to say farewell to their landlords. Venture staff learned that, if given the choice, small businesses would rather be owners than renters.
The Small Business Administration reports that about 80% of all American companies have fewer than 20 employees. Thus, four out of five American companies are ideally sized for commercial condominium properties.
Venture Corporation launched VENTURE COMMERCE CENTERS with an innovative, fresh approach combining home builders' marketing techniques with a commercial real estate product. Ads were placed in local business papers, tens of thousands of full-color, fold-out brochures were mailed to brokers and smaller companies within defined SIC codes (business types), and a unique website was developed to explain the concept. The outreach worked, and soon the "VENTURE" name was branded. As the projects expanded into broader geographical areas, the VENTURE name and its products received even greater recognition. Venture Corporation and its VENTURE COMMERCE CENTER projects became well known throughout the western U.S. commercial real estate brokerage community. Soon, both the New York Times and the Wall Street Journal featured stories about Venture Corporation and its innovative real estate projects.
Early design themes were improved and carried forward into dozens of succeeding VENTURE COMMERCE CENTERS throughout California and in Nevada, Washington, Oregon, Utah and New Mexico. Some of the San Francisco Bay Area locations were Morgan Hill, Newark, Napa, Hercules, Alameda, San Jose, Antioch, Dublin, Fairfield, South San Jose, Fremont and Milpitas.
Venture Professional Centers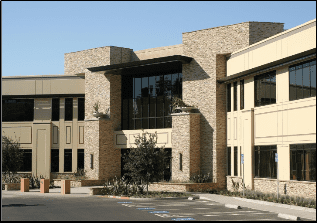 Venture Corporation diversified its product line by creating VENTURE PROFESSIONAL CENTERS. Some were designed as conventional office buildings with lobbies and shared corridors and others with separate entrances for each owner. The VENTURE PROFESSIONAL CENTER at the left is located in the northeast San Francisco Bay Area. It is a 60,000 square foot medical / professional office building offering a grand lobby, elevators, a restroom core and corridors, all typical of modern office buildings. VENTURE PROFESSIONAL CENTERS are typically targeted at medical and dental professionals and suites can be purchased in any size required.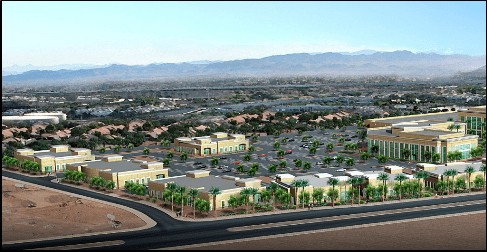 This is CENTENNIAL HILLS CENTER, a 290,000 square foot development in Las Vegas consisting of 18 buildings to be constructed in 2 phases. Located near a regional hospital, the development offered both for sale and lease properties. This, and several other similar Las Vegas projects, were targeted at medical and other professionals. CENTENNIAL HILLS CENTER includes 43,000 square feet of retail planned for Phase II of the project.
Venture Corporation is also experienced in retail development and has combined for-lease retail space with commercial office condominiums. The project shown below is called "Willamette Marketplace" and was built in an upscale suburb of Portland, Oregon. Both the office and retail components are divided into individual commercial condominium properties, and all were offered for sale to individual buyers. When the market slowed in 2009, the various properties were leased and held for sale when the market was restored.
WILLAMETTE MARKETPLACE – Six buildings, medical/office/retail space
West Linn Oregon
Venture Commerce Center Examples
Above is a VENTURE COMMERCE CENTER located in Sorrento Glen, San Diego County. This is a conversion project (not new construction) and offers single-story privately owned business properties, private restrooms and privately assigned parking with each commercial condominium property.
VENTURE PROFESSIONAL CENTER – Dublin (San Francisco Bay Area) One of four buildings at the site.
Oncology center at
VENTURE PROFESSIONAL
CENTER
Dublin CA
Entry lobby at
VENTURE COMMERCE
CENTER
Newark CA
Venture Commerce Center Examples
VENTURE COMMERCE CENTER
One of five buildings
Sacramento CA
VENTURE COMMERCE CENTER
One of four buildings
Palm Desert CA
VENTURE COMMERCE CENTER
Fort Apache
Las Vegas NV
Hualapai Pavillion Commons
One of six buildings
Las Vegas NV
VENTURE COMMERCE CENTER
One of five similar buildings
Alameda (Bay Area) CA
VENTURE PROFESSIONAL CENTER
Dental Suite – Located in one
of the many developments